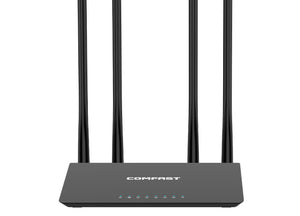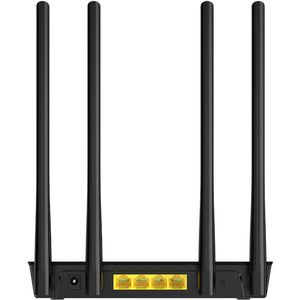 Shop with peace of mind. Try it for 90 days at your home to make sure it satisfies your needs. We want you to experience the difference. We want you to be thrilled.
If for any reason you are not satisfied with our product, simply return it within the 90-day trial period for a full refund.
Hardware

 CPU: MediaTek MT7621AT
 CPU Cores: 2 (Dual Core Processor)
 CPU MHz: 880
 Flash MB: 16

 RAM MB: 128

 Ethernet Gigabit ports: 4 (1 WAN, 3 LAN)
 Hardware NAT acceleration
 VLAN: Yes
 WLAN 2.4GHz: b/g/n
 WLAN 5.0GHz: a/n/ac, 11AC MU-MIMO

 Power Supply: 12v 1A
Features
Advanced Access Control

Either you want to put parental control on your home network, or enhance network security and privacy, we've got you covered.

You may choose from the many pre-configured security enhanced DNS service providers, and have your own local black/white lists.

Turn on safe search for multiple search engines with a single click.

Enforce YouTube Restricted or Moderate Restricted Mode.

Create calendars to control what web sites can be accessed when, and by whom. Pause the Internet with a single click (for which devices/users, and for how long).

White list & black list control by domain name, IP address or IP addresses ranges, port or port ranges. Option to enter regular expressions for advanced users. For example, you can easily restrict the Internet access of your smart TV that might be snooping on you.


Enforce different policies for different users on a shared device with the built-in authenticating proxy server.

Bandwidth throttling per device or group of devices.
Monitoring

Are kids wandering off to dangerous zones on the Internet? Is your smart TV spying on you? The pcWRT router lets you see what web sites have been visited from which device to help you find answers to those questions.

It shows blocked requests too, to help you fix things in case blocking is overly aggressive.

Ever wonder who's using the most bandwidth in your house? You can see that, and which web sites consumed the most bandwidth, with the Bandwidth Monitor.
VPNs

Reclaim your privacy by running a VPN connection out from your router. Compared to VPN from your PC or smartphone, your VPN connection from the router covers every device on your home network, without installing additional VPN software on every device.

The pcWRT is the only router that supports three VPN protocols simultaneously: OpenVPN, IKEv2 & WireGuard.

And it lets you run both VPN connection and your ISP connection at the same time, without the complicated dual router setup.

The built-in VPN server lets you securely access your home network from afar, and provides you a secure tunnel when you need to connect to public WiFi.
Ad Blocking

Enable ad-blocking for your whole network with a single click, without needing to install extra hardware and messing with DNS settings on each device.

White list domains in case the built-in ad block list blocked too much.

You know what's unique to the pcWRT? Each user can decide to pause ad blocking for their own device when needed, without affecting other users.
VLAN

Create a separate network for guests. Put your IoT devices on a separate VLAN.

VLAN management is so easy on the pcWRT that we don't need to use any extra words for it. Just visit the Network Settings page on the router & everything is evident.